Getting to the Whistler Train Wreck
As with my other previous article on the Sunshine Coast, this all about getting out of Vancouver and seeing
some interesting sites. This one is easy, as its only about 1 and a half hours from the City. It is slightly longer if you take in som attractions, or faster is blaze along the highway. Since you'll be driving on the Sea to Sky Highway, I suggest you take your time.
First things first, you'll need a car. If you are in the 'Couve for a holiday, then there are several places to rent one. There are several options to pick up rentals in the city, I suggest getting either a North Vancouver car rental or pick up your rental at Vancouver Airport. If you touch down at YVR Airport and are raring to get out quickly, it's obvious that you should pick directly at the Airport.
Click on this to get written instructions
to get to the Trainwreck as given to
me by Olive's Community Market.
However, you might have just flown in from overseas and need a rest before hitting the road. In this case, staying overnight close to the city centre and picking up a car in North Vancouver makes more sense. You can take the SkyTrain from the airport to the Waterfront Station. There you can find hotels and get take in a bit of the city. After you are refreshed, you can can take the SeaBus Ferry from the Waterfront station to Lonsdale Quay Terminal. There is an Avis just 3 minutes walk from the terminal.
Now that you've got your car, its pretty easy, the hardest step is getting the Highway 99, and even if you miss a couple of the turns below, you'll find it pretty easy to recover and make it to the highway.
Turn right out of the Avis garage onto West Esplanade Street.
Go straight into Forbes Ave
In 400 Meters, turn on 3rd West Street
Take a right on Berwick Ave
Take right Larson road
Then turn left onto the Trans Canada Highway/BC-1 W ramp
Keep left and continue on BC-99 for about 95 kilometers
Turn Left on Alpha Lake Road about 270 meters to Olive's Community Market. Before your exit, there is an overpass over the Cheakamus river (see video below) which is a short distance before Alpha Lake Road.
Now there are a few things you can see along the way of the Sea to Sky Highway (little side trips) that I would recommend.
Shannon Falls - beautiful just off the road. Easy little hike.
Stawamus Chief Provincial Park - this one ain't easy, but the views are worth it!
Brandywine Falls - not to far from the Train Wreck, easy hike to do.
You can access the trail from right behind Olive's Community Market. In fact we had a hard time finding where the trail marker was, and we were hungry and got some delicious organic food there. We asked how to get to the Whistler Train Wreck and they told us that we can could access the trail from right behind their parking lot. They gave us some printed directions (uploaded to the right) so we could easily follow. We were set to go!
If interested, further links to resources are found at the bottom.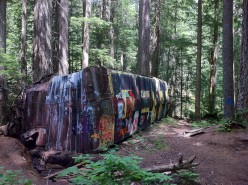 Whistler Train Wreck History
The Whistler wreck occurred in 1956, when box cars got overturned into a narrow section of the track due to excessive speed. After the wreck occurred, a local logging family used their equipment to move the fallen box cars off the track and into the woods, where they remain today. Previously there was confusion why there was no damage to the local forest - answer being that trains didn't derail into the forest, but where moved there. Read the whole story of the accident through the link below: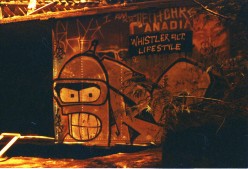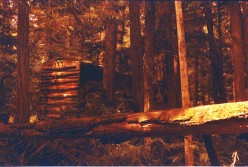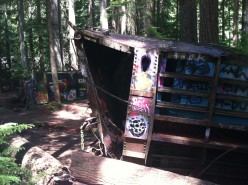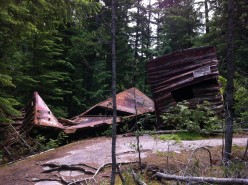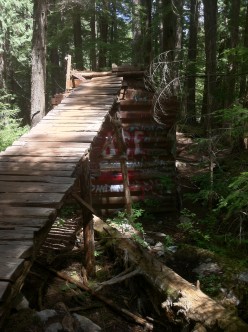 Our hike to the Whistler Train Wreck
This was my first hike at Whistler and first time in Whistler during the summer (June). I have to say I would love to return there again. With newly given instructions from Olive's Community Market, we made our way. At one point in the trail we had to go beneath the highway underpass.
One thing to remember is that there are train tracks along the way, you can walk beside but it is illegal (of course, also not very smart) to walk on them.
After the tracks, are are some amazing spots along the Cheakamus river with little trails going back and forth to the main trail. The water is pretty wild from some of the vantage points. Soon you come to an area where train wreck wreck comes into view. The site is amazing - there are 7 box cars in the middle of the forest. Most of the are tagged with interesting and beautiful graffiti; it is probably an outlet for local creatives. My favourite was that of Bender from Futurama (photos to the right).
In addition to the graffiti art, there it was also a biking trail with biking ramps going up over a couple of the box cars. We saw one mountain biker easily go up the ramp and make a graceful touch down off the edge of one of the box cars.
A camper had also set up a camp inside one of the box cars. Aside from this, there were surprising few people at the site on the summers day. The rapidly flowing Cheakamus river help cool the heat there. We walked around the site for about an hour before we decided to head back.
On our way back we had a 'surprise' visitor - as we were walking adjacent to small stretch of train tracks that goes back into the main train, I heard some rustling in the bushes next to me. When I looked I saw black bear, only 2 metres away, looking directly at me. Needless to say, we livened up our pace back to our car!